Orange 50 GB eSIM for Europe & UK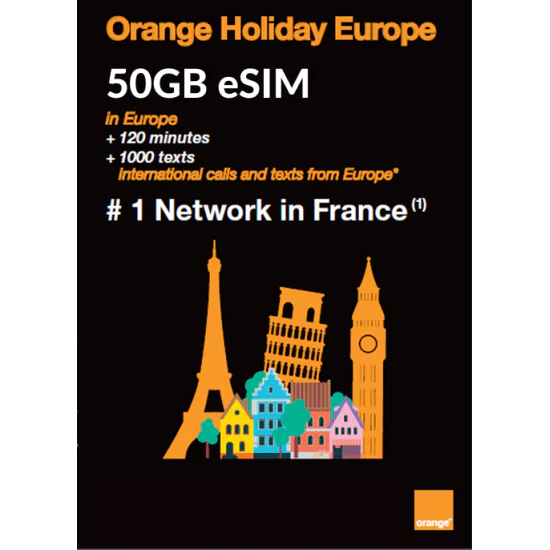 Orange Holiday eSIM 50 GB
Holiday 50 GB Europe eSIM
With a massive 50GB 5G data allowance, the Holiday 50 GB Europe eSIM is the biggest prepaid plan from Holiday eSIM. Made for power users, the eSIM comes with a validity of 28 days and a French phone number in addition to hours of international voice credit. Explore Europe with premium connectivity at a price you can't beat.
Plan features
· Data allowance: 50GB
· Speed: 5G all over Europe
· Validity: 28 days
· Phone number: French
· Calls: Unlimited in Europe
· SMS: Unlimited in Europe
· International voice credit: 120 minutes
· International SMS: 1000
· Tethering and Wi-Fi hotspot: Allowed
· Countries coverage: Andorra, Azores, Aland islands, Austria, Balearic islands, Belgium, Canary islands, Cyprus, Corfu, Crete, the Cyclades, Croatia, Czech Republic, Denmark, Estonia, Faeroe islands, Finland, France mainland, Germany, Gibraltar, Greece, Guernsey, Hungary, Ireland, Iceland, Italy, Jersey, Latvia, Liechtenstein, Lithuania, Luxembourg, Madeira, Malta, Isle of Man, Norway, Netherlands, Poland, Portugal, Rhodes, Romania, Spain, United Kingdom, San Marino, Sardinia, Sicily, Slovakia, Switzerland, Sweden, Vatican City
Phone number included
Unlike many eSIMs that only give you data, this Europe eSIM comes with a French phone number you can use to make calls and send SMS. This is in addition to your original number, with which you can also make calls and send texts using an app like WhatsApp.
Unlimited calls and SMS
You can make unlimited calls and send unlimited SMS while you are in Europe with the provided French phone number. You won't get a better deal on a Europe eSIM!
International voice and SMS credit
In case your communication needs extend beyond Europe, you get a whopping 120 minutes worth of international calls with the plan. Along with 1,000 SMS, you can call and text anyone in the world without worrying about roaming charges.
Easy and instant activation
Installing and activating your Holiday eSIM is supremely easy! There are no third-party apps to install or personal details to provide. As soon as you buy your eSIM you will receive detailed instructions to set up your eSIM. The QR code you will receive in your inbox is used to automatically download and set up your eSIM profile. Refer to our guide to installing your eSIM for detailed instructions depending on your phone's operating system.
Unbeatable coverage with blazing 5G speeds
Experience the power of 5G data in Europe with data speeds averaging at 100Mbps all over Europe. Thanks to Orange's robust coverage across the supported destinations, you will never be plagued by poor data speeds with this plan.
Frequently Asked Questions
Can my phone use an eSIM?
Most modern smartphones support eSIM technology. Check this list of eSIM-supported devices or with your manufacturer to know whether your device supports eSIMs.
How to install my eSIM plan?
As soon as you make your purchase from us, you will receive a QR code in your email with detailed instructions on how to install and activate your eSIM.
Does the eSIM come with a phone number?
Yes, a French phone number (+33). You will be able to make and receive calls as well as send and receive SMS with it.
What kind of data speed will I experience using this plan?
Your plan comes with 5G data speed for a premium connectivity experience. All over Europe, you can expect this speed to be constant thanks to the premium quality of coverage provided by Orange.
Can I keep my original number while using an eSIM?
Yes, depending on your device's support for multiple eSIM profiles. Most eSIM-supported phones have dual-SIM support so you can have an eSIM alongside your original plan.
How many times can I use the eSIM?
Your eSIM can be used only on one device. After installation, you will not be able to use your plan on another device.
How to check the data and minutes I have left on my plan?
Dial #123# to check your credit.
Can I make international calls with the eSIM?
With the Holiday 50 GB Europe eSIM, you can make calls for 120 minutes.
Can I send SMS through the eSIM?
In addition to enabling you to send and receive unlimited SMS in Europe, you can also send 1,000 SMS internationally.
I ran out of voice credit. How do I continue making calls?
You can make calls with data using many apps that support voice calling. Some popular ones include WhatsApp and Facebook messenger. Calls made using such apps only consume about an average of 400KB per minute.
Can I share my eSIM data through Wi-Fi hotspot?
Yes. Holiday eSIM plans allow you to set up tethering/Wi-Fi hotspot to share your data with other devices.
When does my eSIM plan begin?
Your plan starts the second you scan the QR code. We highly recommend buying an eSIM to take advantage of discounts and only activate it the day you land at your destination.
After you've consumed your data allowance or your plan's validity expires, you can just buy a new eSIM from us.
My eSIM has expired but I have data and unused calling credit left. How do I use it?
No. If your plan is no longer valid, you will not be able to use your eSIM.
What other eSIMs can I get for Europe?
Holiday eSIM features Europe and multi-country eSIM plans enabling you to connect globally. Go through our offerings and pick one that suits your usage.
Will I incur roaming charges on my original SIM card?
It is recommended that you choose your eSIM to be the default for voice and data in your settings. Keeping your original SIM activated may cause your network provider to charge you for roaming.
I need more help with my eSIM. Who should I contact?
You can reach our customer support at info@uktelecomdistribution.co.uk for any questions related to your eSIM.
Orange 50 GB eSIM for Europe & UK
Stock:

In Stock

Model:

Orange 50 GB eSIM

ORANGE FRANCE
Products Sold: 38
1814596 views
100% Customers recommend this product
5 Awesome

100%

4 Great

0%

3 Average

0%

2 Bad

0%

1 Poor

0%
Total Reviews (1)
click here write review to add review for this product.