Orange eSIM Europe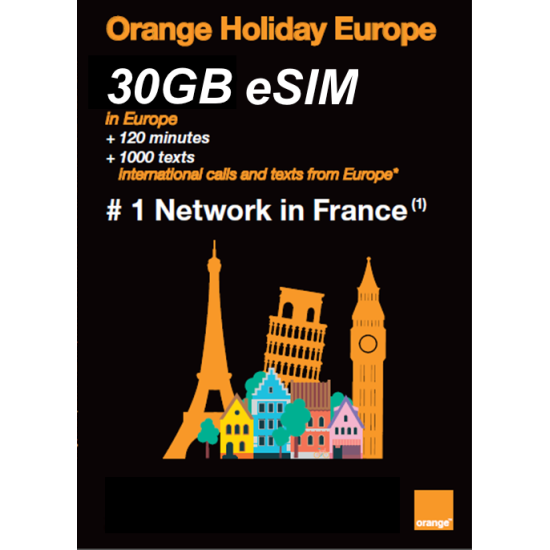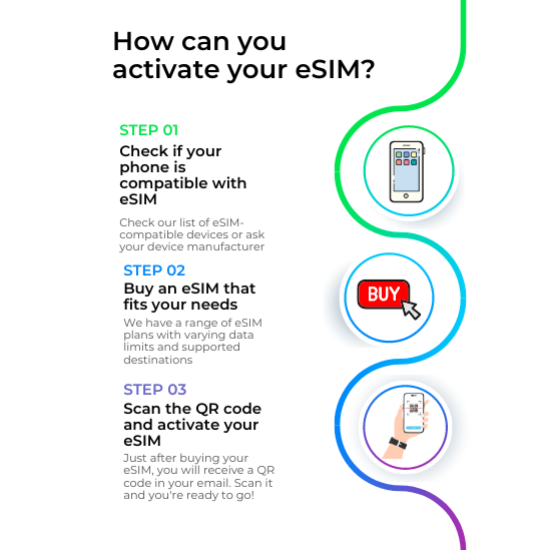 Orange eSIM 30 GB
Orange eSIM Europe & UK - 30 GB Data & 120 mins Voice
Experience Seamless Connectivity with Orange Italy eSIM
Traveling in Europe has never been more convenient with the Orange eSIM Europe. Say goodbye to the days of expensive roaming charges and the inconvenience of changing SIM cards. With the Orange Italy eSIM, you can enjoy a hassle-free travel experience across Europe, including Italy.
Your Ultimate Travel Companion: Orange eSIM Europe
Designed specifically for the modern traveler, the Orange eSIM Europe is the perfect solution for those who frequently travel to Europe. Whether you're visiting Italy, France, Spain, or the UK, our eSIM ensures you stay connected without interruptions.
Benefits of Orange eSIM Europe:
Eliminate Roaming Charges: With the Orange eSIM Europe, you can enjoy 30GB of 4G/LTE data, unlimited calls, and SMS within Europe, and 120 minutes of worldwide voice credit without any hidden charges.
No More SIM Swapping: Travel across Europe, including Italy, with just one eSIM. No need to switch between different SIM cards.
Enhanced Data Security: Stay protected online, especially when connecting to public Wi-Fi networks during your travels in Europe.
Instant Activation: Activate your Orange Italy eSIM instantly by scanning the provided QR code.
User-friendly Setup: Our intuitive setup process ensures you're always connected during your European adventures.
Choose Orange eSIM Europe
eSIMs represent the future of mobile connectivity. The Orange eSIM Europe offers the convenience of instant activation, multiple profiles on a single device, and the ability to switch providers seamlessly. It's the ideal choice for travelers looking for uninterrupted connectivity in Europe, especially Italy.
Experience the Best eSIM in Europe
Don't let roaming charges or SIM swapping woes dampen your European travels. Embrace the future with the Orange eSIM Europe and enjoy seamless communication wherever you go. Whether you're exploring Italy's historic sites or the UK's scenic beauty, our eSIM ensures you're always connected.
Frequently Asked Questions:
Where is this eSIM compatible?
This Orange eSIM Europe works in Andorra, Azores, Aland islands, Austria, Balearic islands, Belgium, Canary Islands, Cyprus, Corfu, Crete, the Cyclades, Croatia, Czech Republic, Denmark, Estonia, Faeroe Islands, Finland, France mainland, Germany, Gibraltar, Greece, Guernsey, Hungary, Ireland, Iceland, Italy, Jersey, Latvia, Liechtenstein, Lithuania, Luxembourg, Madeira, Malta, Isle of Man, Norway, Netherlands, Poland, Portugal, Rhodes, Romania, Spain, United Kingdom, San Marino, Sardinia, Sicily, Slovakia, Slovenia, Switzerland, Sweden, Vatican
What does this eSIM provide?
This Orange Holiday Europe eSIM offers you 30GB of high-speed 4G/LTE data for your browsing needs across Europe, along with 120 minutes of international calls from Europe to anywhere in the world. You'll also enjoy the convenience of unlimited calls and SMS within Europe and have the flexibility of sending 1000 SMS messages from Europe to worldwide destinations. Plus, your data and voice minutes will remain valid for 14 days from the moment you activate the plan, ensuring you stay connected during your stay in Europe.
How to activate the Orange Holiday Europe eSIM?
Activating the Orange Holiday Europe eSIM is a straightforward process. Simply scan the QR code that you receive in your registered email from Holiday eSIM, and you'll be all set to use your eSIM.
For the best experience and to make the most of your Orange eSIM in Europe, we recommend activating it as soon as you arrive at your destination. This way, you can enjoy the full benefits of your Orange eSIM during your stay in Europe.
Which smartphones are compatible with eSIM?
The following smartphones are compatible with eSIM technology:
iPhone 13 Pro Max, iPhone 13 Pro, iPhone 13 mini, iPhone 13, iPhone 12 Pro Max, iPhone 12 Pro, iPhone 12 mini, iPhone 12, iPhone 11 Pro Max, iPhone 11 Pro, iPhone 11, iPhone XS, iPhone XS Max, iPhone XR, iPhone SE 2 (2020), iPad Pro 11, iPad Pro 12.9, iPad Air (3rd Gen or later), iPad (7th Gen or later), iPad mini (5th Gen or later).

Fairphone 4

Google Pixel 6 Pro, Google Pixel 6, Google Pixel 5, Google Pixel 4, Google Pixel 4a, Google Pixel 4 XL, Google Pixel 3, Google Pixel 3 XL, Google Pixel 3a, Google Pixel 3a XL.

HONOR Magic 3, HONOR Magic 3 Pro, HONOR Magic 3 Pro+, HONOR 50.

Huawei P40, Huawei P40 Pro, Huawei Mate 40 Pro.

Nuu X5.

Oppo Reno 5 A, Oppo A55s, Oppo Reno 6 Pro 5G, Oppo Find X3 Pro.

Rakuten Mini, Rakuten Big S, Rakuten Big.

Samsung Galaxy Fold, Samsung Galaxy Note20, Samsung Galaxy Note20 Ultra, Samsung Galaxy S22, Samsung Galaxy S22+, Samsung Galaxy S22 Ultra, Samsung Galaxy S21 5G, Samsung Galaxy S21+ 5G, Samsung Galaxy S21 Ultra 5G, Samsung Galaxy S20, Samsung Galaxy S20+, Samsung Galaxy S20 Ultra, Samsung Galaxy Z Flip, Samsung Galaxy Z Fold 2, Samsung Galaxy Z Fold 3 5G, Samsung Galaxy Z Flip 3 5G Fold, Samsung Galaxy Z Flip 3 5G.

Sharp AQUOS sense4 lite.

Sony Xperia 10 III Lite.

Can I use an eSIM on any device not listed here?
No, eSIMs are only compatible with devices that support this technology. If your device is not on the list, it may not be eSIM-compatible. Please check with your device provider for further guidance.
Remember, eSIM compatibility may vary depending on the carrier and region, so it's always a good idea to verify with your service provider if you have any doubts.

Orange eSIM Europe
Stock:

In Stock

Reward Points:

200

Model:

Orange Holiday eSIM Europe

ORANGE FRANCE
Products Sold: 15690
18309316 views
100% Customers recommend this product
5 Awesome

98.77%

4 Great

0.82%

3 Average

0.41%

2 Bad

0%

1 Poor

0%
Total Reviews (244)
click here write review to add review for this product.