Buy Holiday eSIM Go Inter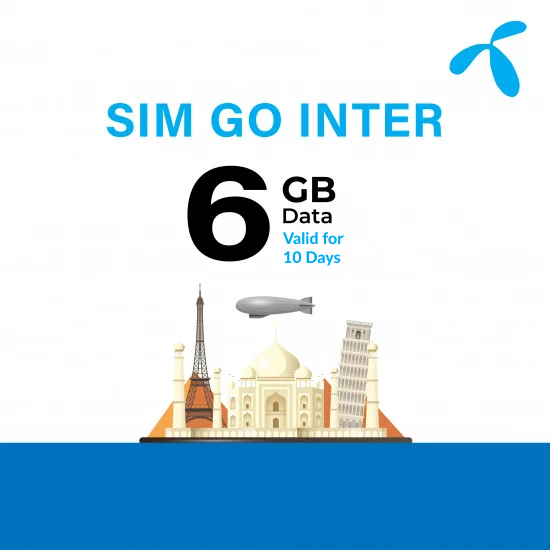 5G data eSIM for Asia, Australia, and the USA
Unleash Seamless Connectivity with Holiday eSIM Go Inter
Experience unparalleled travel connectivity with our Holiday eSIM Go Asia, Australia, and USA – your ultimate global companion. Stay connected effortlessly with 6 GB of lightning-fast, unlimited data across 30 countries. Whether you're browsing, streaming, or keeping in touch with loved ones, this prepaid eSIM plan ensures you're always covered.
Benefits of Holiday eSIM Go Inter - 5G data eSIM for Asia, Australia, and the USA
Instant Activation for Your Convenience
No more waiting – enjoy instant activation and connectivity as soon as you land in your destination.
High-Speed 5G Data to Fuel Your Adventures
With 6GB of high-speed 5G data, surf the web, stream content, and navigate with ease, enhancing your travel experience.
Extended Validity for Hassle-Free Exploring
Enjoy 10 days of worry-free usage, giving you ample time to make the most of your journey without plan expiration concerns.
As a special bonus, unlock either 4GB or 6GB of additional roaming data within 24 hours of activating your eSIM, extending your data allowance further.
Free Thai Number for Added Convenience
Receive a complimentary Thai number for easy local communication during your stay.
Dedicated 24/7 Customer Support
Rest assured with 24/7 customer support at +662 202 8100, ready to assist you anytime, anywhere.
Global Coverage in 30 Countries
Our eSIM works seamlessly in 30 countries, including:
- Bangladesh
- Brunei
- Cambodia
- China
- Hong Kong
- India
- Indonesia
- Israel
- Japan
- Kazakhstan
- Korea (South)
- Kuwait
- Laos
- Macau
- Malaysia
- Mongolia
- Myanmar
- Oman
- Pakistan
- Philippines
- Qatar
- Singapore
- Sri Lanka
- Taiwan
- Uzbekistan
- Vietnam
- Australia
- Puerto Rico
- USA (Including Hawaii)
- US Virgin Islands
Stay connected, stay informed, and stay ahead with Holiday eSIM Go Inter – your key to a truly global adventure. Buy now and unlock the world!


People Also Ask:
How can I buy Holiday eSIM Go Inter?
You can conveniently buy Holiday eSIM Go Inter through our online web store, just as you would with any other online shopping transaction.

When is the ideal time to buy Holiday eSIM Go Inter for my travels?
You can choose to buy Holiday eSIM Go Inter either right before your departure or upon your arrival at your destination, depending on your convenience. We recommend activating your eSIM after reaching your destination to maximize its validity.

What benefits will I receive if I buy Holiday eSIM Go Inter?
When you purchase the Holiday eSIM Go Inter, you'll receive 6GB of high-speed 5G data immediately upon activating your eSIM. Additionally, you'll receive a complimentary Thai phone number. These benefits are available for a duration of 10 days. As an added bonus, you'll also have the option to enjoy either 4GB or 6GB of extra roaming data, in addition to all the previously mentioned benefits.

Can I buy Holiday eSIM Go Inter now and activate it at a later time?
Certainly! We recommend purchasing the Holiday eSIM Go Inter before your departure and activating it once you've arrived at your destination to fully capitalize on its benefits.

What is the best eSIM option available in the market that offers 5G data for short trips to Asia, Australia, and the USA?
While there are several options available in the market, we highly recommend considering the Holiday eSIM Go Inter. It provides an excellent value proposition, offering seamless roaming experiences in Asia, Europe, and the USA, along with 5G data, all while ensuring a hassle-free experience for travellers.

Buy Holiday eSIM Go Inter
Stock:

In Stock

Model:

DTAC
Products Sold: 175
1815573 views
0% Customers recommend this product
5 Awesome

0%

4 Great

0%

3 Average

0%

2 Bad

0%

1 Poor

0%
Total Reviews (0)
click here write review to add review for this product.