eSIM Thailand for Tourists - 15GB, 8-Day Validity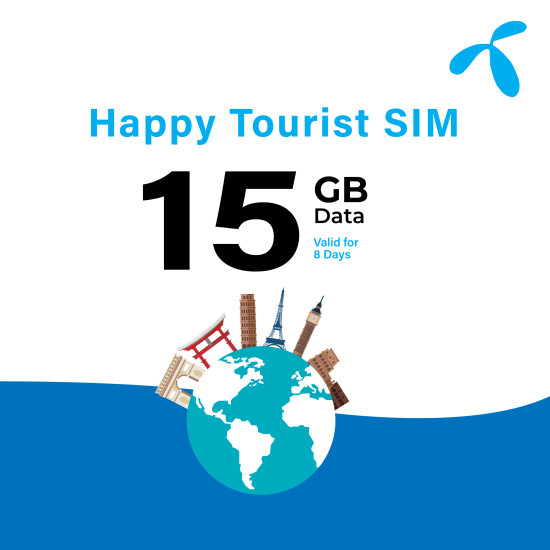 Explore Thailand without Limits with Holiday eSIM Travelers Delight Mini
Are you ready to embark on an unforgettable adventure in Thailand? Look no further! Introducing the Holiday eSIM Thailand Travelers Delight Mini - your ticket to exploring this captivating country without limits.

Packed with incredible features, this eSIM is your ideal companion for a week-long escapade in the Land of Smiles. Let's dive into what makes it the best eSIM for Thailand.
Unleash the Power of 5G Data
Stay connected like never before with a whopping 15GB of high-speed 5G data with eSIM Thailand for 8 days by Holiday eSIM. Whether you're capturing breathtaking moments on your phone or streaming your favourite travel vlogs, this eSIM ensures you never miss a beat. Share your adventures with friends and family back home in stunning clarity - all at your fingertips!
8 Days of Boundless Exploration
With 8 days of validity, you have all the time you need to immerse yourself in the wonders of Thailand. From the bustling streets of Bangkok to the serene beaches of Phuket, this eSIM enables you to experience every facet of this enchanting destination without any worries about connectivity.
Connect Freely with Unlimited Calls
Communication is the heart of every journey, and with this eSIM, you can stay connected without any constraints. Enjoy unlimited calls within the DTAC network, ensuring you can reach out to fellow travellers or locals with ease.
Share your experiences, seek recommendations, and make memories together, all without worrying about the cost.
Free Usage of Top Chat Apps
Engaging with loved ones is now simpler and more delightful. This eSIM comes with five chat apps - Facebook Messenger, WhatsApp, LINE, KaokaoTalk, and WeChat - available for free usage.
Share your captivating stories, photos, and videos with your friends on these platforms without consuming your precious data.
More Than Just Data
Along with the fantastic features mentioned above, it also includes a Thai phone number and 15 baht calling credit, making it incredibly convenient for you to connect with locals and fellow travellers alike. Embrace the culture, make new friends, and create lasting memories during your stay.
Unmatched Network Coverage
This eSIM boasts strong network coverage that spans the entire landscape of Thailand. Whether you're exploring the bustling cityscapes or venturing into the tranquil countryside, you'll stay connected, enabling you to navigate with confidence and make the most out of your journey.
Simple Activation and Instant Connection
Just buy, scan, and get connected instantly. No more wasting time on complicated procedures or waiting in long queues. The seamless activation process ensures you can start your adventure right away!
Don't Miss Out! Buy eSIM Thailand Online Now!
The Holiday eSIM Thailand Travelers Delight Mini is here to elevate your journey to new heights. Say goodbye to connectivity woes and embrace the joy of seamless communication and internet access. eSIM Thailand online today and unlock the door to unforgettable experiences in the Land of Smiles!
Please note: The validity of this eSIM is 8 days, and it includes 15GB 5G data, unlimited 2G data, a Thai phone number, free calls within the DTAC network, 15 baht calling credit, and free usage of Facebook Messenger, WhatsApp, LINE, KaokaoTalk, and WeChat. Enjoy unmatched network coverage across Thailand and instant activation for a hassle-free start to your adventure.
Note: Please find your device name from the list of eSIM activated devices, before purchasing any eSIM.
Also, please check our guide on how to activate eSIM to start using your eSIM.
People Also Asked (FAQs)
Which SIM card is best in Thailand?
The best SIM card in Thailand largely depends on your specific needs. However, Holiday eSIM's Thailand Tourist Delight mini eSIM is a great choice for tourists. It offers seamless connectivity, 15GB of high-speed 5G data with a validity of 8 days, and the convenience of not having to worry about a physical SIM card.
Which is the best eSIM card for tourists in Thailand?
For tourists visiting Thailand, the best eSIM card option is Holiday eSIM's Thailand Tourist Delight mini. It provides hassle-free activation, extensive coverage, and data plans tailored to travellers' needs. Holiday eSIM Thailand Tourist Delight mini 15GB with 8-Day Validity is the most popular eSIM among travellers.
Where to buy a tourist SIM in Thailand?
You can conveniently purchase a tourist eSIM for Thailand from Holiday eSIM. We deliver the eSIM directly to your email upon payment confirmation. This eliminates the need to visit physical stores, allowing you to activate your eSIM from the comfort of your device. You can purchase the eSIM from anywhere at any time on our website.
How to activate eSIM in Thailand?
Activating your eSIM Thailand bought from Holiday eSIM is a breeze. Once you've received the eSIM via email, simply scan the QR code provided in the email using your compatible device. Detailed activation instructions can be found on our website at this link. It's a quick and hassle-free process.
What are the compatible devices with the holiday eSIM Thailand Tourist Delight mini?
Holiday eSIM's Thailand Tourist Delight mini eSIM is compatible with a wide range of devices, including most modern smartphones and tablets that support eSIM technology. This includes popular brands like Apple, Samsung, Google, and more. To check if your specific device is compatible, please refer to our compatibility list on the page here.
eSIM Thailand for Tourists - 15GB, 8-Day Validity
Stock:

In Stock

Model:

DTAC

SKU:

PSTH003
Products Sold: 154
Product Views: 10141
100% Customers recommend this product
5 Awesome

100%

4 Great

0%

3 Average

0%

2 Bad

0%

1 Poor

0%
Total Reviews (1)
click here write review to add review for this product.