Europe eSIM Data Plan - Orange 50 GB eSIM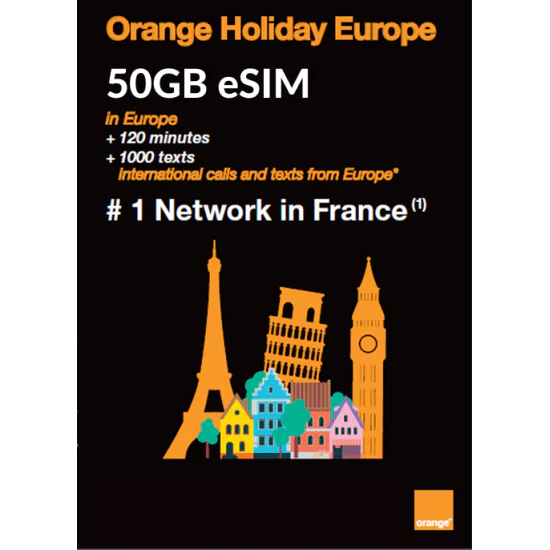 Europe eSIM 50 GB
Europe eSIM Data Plan
Experience the Power of 5G with

Europe eSIM

50 GB of Blazing Speed

Looking for the ultimate data plan to explore Europe? Look no further! Introducing our 50 GB Europe eSIM, designed for power users like you. With a massive 50GB 5G data allowance, this is the biggest prepaid plan from Holiday eSIM, offering unparalleled connectivity at a price you can't resist.
Unmatched Features for Uninterrupted Adventures
50 GB Data All Over Europe: Unleash the Power of 5G
Stay connected and share your experiences with blazing 5G data speeds averaging 100Mbps all over Europe. Say goodbye to slow loading times and buffering, and embrace seamless browsing, streaming, and sharing.
28 Days of Validity: Longer Adventures Await
With a validity of 28 days, our Europe eSIM ensures you have enough time to explore the beauty of Europe without worrying about running out of data.
French Phone Number Included: Stay Connected Everywhere
Unlike other eSIMs that only provide data, our Europe eSIM comes with a French phone number. Make unlimited calls and send unlimited SMS while you're in Europe using this phone number. Plus, you can also make calls and send texts through apps like WhatsApp using your original number.
Unlimited Calls and SMS: No Boundaries, No Worries
Enjoy unlimited calls and SMS while you're in Europe with the provided French phone number. Stay in touch with your loved ones, no matter where they are.
International Voice and SMS Credit: Connect Globally
Need to reach beyond Europe? We've got you covered! With 120 minutes of international calls and 1,000 SMS, you can connect with anyone around the world without worrying about roaming charges.
Tethering and Wi-Fi Hotspot Allowed: Share the Fun
Share your adventure with friends and family by tethering or creating a Wi-Fi hotspot. Stay connected together and make memories that last a lifetime.
Extensive Coverage Across Europe: Unbeatable Connectivity
Our Europe eSIM covers an extensive list of countries across Europe:
Andorra, Azores, Aland islands, Austria, Balearic islands, Belgium, Canary islands, Cyprus, Corfu, Crete, the Cyclades, Croatia, Czech Republic, Denmark, Estonia, Faeroe islands, Finland, France mainland, Germany, Gibraltar, Greece, Guernsey, Hungary, Ireland, Iceland, Italy, Jersey, Latvia, Liechtenstein, Lithuania, Luxembourg, Madeira, Malta, Isle of Man, Norway, Netherlands, Poland, Portugal, Rhodes, Romania, Spain, United Kingdom, San Marino, Sardinia, Sicily, Slovakia, Switzerland, Sweden, Vatican City
Enjoy unbeatable coverage and a seamless data experience.
Easy and Instant Activation: Hassle-Free Setup
Activating your Holiday eSIM is a breeze! No third-party apps or personal details are required. Simply purchase your eSIM, follow the instructions in your inbox, and use the QR code to download and set up your eSIM profile. Our comprehensive activation guide will assist you with the setup, regardless of your phone's operating system.
Unlock the True Potential of Your European Adventure
Embrace the power of 5G and embark on a journey like no other with our 50 GB Europe eSIM data plan. Whether you're a traveler, a digital nomad, or simply someone who loves to stay connected, this eSIM is tailor-made for you. Say goodbye to data worries and slow connections, and say hello to seamless browsing, streaming, and sharing.
Get Your 50 GB Europe eSIM Data Plan Now: Explore Europe with Unbeatable Connectivity
Unlock the power of 5G and explore Europe like never before. Get your 50 GB Europe eSIM data plan today and let the adventures begin! Don't miss out on this unbeatable offer.
Commonly Asked Questions
1. Is my phone compatible with an eSIM?
Most modern smartphones are eSIM-compatible. To confirm if your device supports eSIMs, consult our list of eSIM-supported devices or check with your device manufacturer.
2. How do I set up my eSIM plan?
Upon completing your purchase, you will receive a QR code via email, along with comprehensive instructions on how to install and activate your eSIM.
3. Does the eSIM include a phone number?
Yes, it comes with a French phone number (+33). This number allows you to make and receive calls and send and receive SMS messages.
4. What data speed can I expect with this plan?
Your plan provides a 5G data speed for a premium connectivity experience. Throughout Europe, you can count on a consistent speed due to Orange's superior coverage quality.


Europe eSIM Data Plan - Orange 50 GB eSIM
Stock:

In Stock

Model:

Orange 50 GB eSIM

ORANGE FRANCE
Products Sold: 38
Product Views: 14608
100% Customers recommend this product
5 Awesome

100%

4 Great

0%

3 Average

0%

2 Bad

0%

1 Poor

0%
Total Reviews (1)
click here write review to add review for this product.